Our senior year my good guinea friend Dante was taking sculpture (I think) at Wes. For one of his projects he took real talk street items - trash cans, shopping carts, and a street bench - and made them look regal by painting, upholstering, and designing them. I loved the idea of taking this hood ass shit and making it fly, and not even hood-fly but just straight fly. A dude who's been doing similar stuff in India - albeit rather than street stuff it's day-to-day icons of average middle-class life in India - for some time now is Subodh Gupta. He's been called the Damien Hirst of India. Funny, in India they don't call Damien Hirst the Subodh Gupta of America. They call him "Bunty". (Nah, just playin - they call him Damien Hirst.) "His works were showcased at the prestigious 2005 Venice Biennale, an honour few Indians can boast of, the Delhi-based Raqs Media Collective trio of Jeebesh Bagchi, Monica Narula and Shuddhabrata Sengupta being the exception. One of his paintings, Idol Thief, was sold for over US$ 185,000 at a Christie's auction in Hong Kong in 2006. Another of his sculptures, Cheap Rice, carried a price tag of US $ 350,000 at an exhibition in Miami. His critically acclaimed Very Hungry God, a giant skull sculpted with stainless steel utensils, was bought by French billionaire Francois Pinault and is currently exhibited on a platform over the Grand Canal at the entrance of the Palazzo Grassi museum in Venice. Clearly, Subodh Gupta has hit big time." - Telegraph, India. He may be the first Indian artist to rise through the ranks of the art world via Western appreciation rather than having the Indian art world appreciate him and leveraging that into global appreciation. In fact, as a struggling artist Indians weren't buying his work and now he sells pieces for heck of guap.
Doot, 2003, Cast aluminum Ambassador car, toy cars and mirrors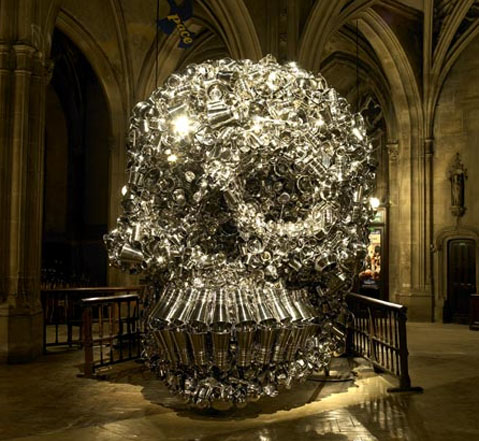 Very Hungry God
U.F.O., 2003
** Credit to Sara'o for sending me
this
piece on "Chalo! India: A New Era of Indian Art" at Mori Art Museum, Tokyo. Not only does it feature the work of Subodh Gupta, but also Atul Dodiya who I posted about on my first entry here. Peep the Atul Dodiya piece they highlight:
Also while I'm rambling about India, if any of you watch Indian movies (Sara'o?) try to peep Oye Lucky! Lucky Oye! by Dibakar Banerjee. Ees good!
Coming soon: the works of Jitish Kallat, Bhupen Khakhar, Tyeb Mehta, Ravinder Reddy, Jamini Roy, and Rameshwar Broota.