So freaky deeky so fashion (fashion).
So freaky deeky so fashion (fashion).
A bunch of clothes for ya to look at, mostly shamelessly lifted from Selectism.com and thefashionisto.com:
San Fran's Distilled dropped this Melton Toggle Jacket. Cool cords and deep front pockets for warmth. Purple!!!
Some ugly boots from the usually awesome Nom de Guerre collabo with Redwing. Wait, are these ugly? I can't decide. These might be dope. You can cop them at Nom De Guerre's NYC flagship on Dec. 26th for 285.
*Looks like David Z made a very similar boot in theirprevious collabo with Redwing. I think the NDG's look better but still....
Sweet V Neck Tape T-shirts from Martin Margiela who even Jadakiss name-dropped in a recent joint. (Oh and has anyone heard that swate new Jada joint where he rhyme about going "half on" a girl's baby with her.) Only 162 bucks which is a lot for a t-shirt but maybe not for MM:
Socks from Mukluk!!!! Hand-made! So awesome!
Snuggies! Okay so this isn't from Selectism or some hip fashion blog. This is just me. These things are so awesome. 2 for 20, with 2 free reading lights! It's a blanket with sleeves! So you'll never have to do that freakish hand movement of unwrapping your blanket from you to pick up the phone or do anything. If that one hand movement was like the most annoying thing you ever had to do, this product is a no-brainer. A senior co-worker said she'd buy me one if I wore this to work for an entire day. I'm torn because my coworkers think I'm weird enough but it's a Snuggie! I might have to do it.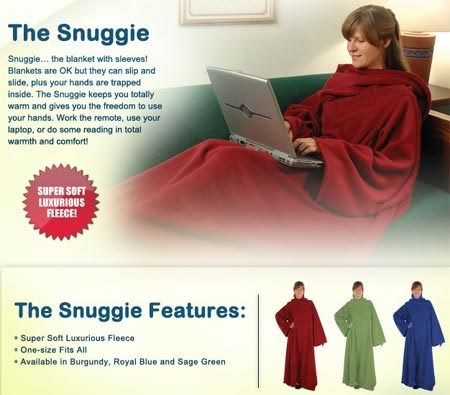 APC's Spring 09 Pre-release should hit your hood soon. They won't be available online. I don't fit in any of their clothes.
Burberry Prorsum also dropped their new pre-collection for Spring 09. I'm digging these trenchcoats. I've grown to become a big fan of the trenchcoat.
S.N.S. Herning out of Denmark has some cool cardigans made on these machines people fucked with in the 1930's. Men weave all the time.
Via thefashionisto, here's some jawns from Martyn Bal's latest Spring collection. Marty Bal used to work for Dirk Bikkembergs, Dior Homme, Versace, and Burberry Prorsum. Ees so good:
Das German Kilian Kerner dropped his Spring 2009 looks:
I had no idea ACNE and Lanvin teamed up. Those two... well that's a pants creamer of a collabo innit.
Coleman Horn's Vael Project 2008 Holiday bags. Step your bag game up dog.
Whoaaa: Early arivals of Nike Spring 2009 Air Structure Triax.
And speaking of sneakers, check out this cool interview with favorite sneaker designers Common Project's Prathan "Peter" Poopat. I'm not 100% but I'm like 85% sure that dude is Indian which I didn't realize: http://www.selectism.com/features/common-projects-peter-poopat/