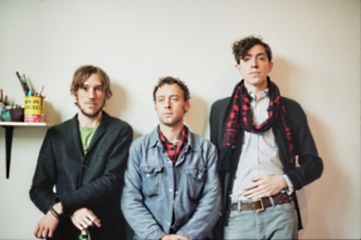 I posted this a couple of weeks back though I wanted to revisit it because Here We Go Magic is that good. Here We Go Magic is Luke Temple's new project. Who is Luke Temple? Luke Temple's an American pop-folk singer-songwriter from Massachusetts. A visual artist by training, Temple's an alumnus of the School of the Museum of Fine Arts in Boston and made a living by painting murals in New Yorkers apartments and shit. In 2004/5 he caught the music bug and started releasing records like Hold a Match to a Gasoline World and Snowbeast. Here We Go Magic is his latest work and it's really great.
via GVB, here's "Tunnelvision". It's a pretty straightforward joint with a simple acoustic progression and 4/4 drum beat but Temple's high-pitched droning voice is what makes this song as infectious as it is. I have no clue why this song sparks feelings of nostalgia within me but it does. Maybe it's the acoustic guitar, an instrument I rarely hear these days.
via Obscure Sound, here's "Fangela". After playing Tunnelvision ad nauseum for the last 3 weeks, Fangela's taken over as the song I find myself humming on the john.
via Test Pilots, here's "I Just Want to See You Underwater". This will probably take over for Fangela in a week.